Tere tulemast!
Welcome again, you lovely fluffs! It's time to draw a big red circle in your calendars around 2nd of July to 5th of July, for that is the date for FurryEST 2020!
This year, we have a whole new barge for you party lovers out there, simply named...the party barge! Right next to the other barges for easy access both in and out! We of course still have all the wonderful nature to explore and relax in, canoes and even watercycles to ride around with on the river, and of course, all the previous places to socialize at, including the sauna and hot tub. FurryEST is just generally an awesome chance to get away from the city life to just enjoy some time in the beauty that is the Estonian country side and of course... party!
Important notice: Previously the registration date for FurryEST 2020 was 28th of March, however due to current events in the world regarding the Novel Coronavirus (Covid-19), FurryEST organizers have decided to postpone the registration date to 18th of April!
Frequently Asked Questions
When will the convention be held?
FurryEST 2020 will be held from the 2nd of July to the 5th of July.
When does registration open?
FurryEST 2020 registration opens on 18th of April, 20:00 EET (+2UTC/GMT)!
Where will the convention be held?
FurryEST takes place in Estonia near the village Kabala (GPS coordinates 58°56'00.8"N 24°39'34.0"E). The closest larger cities are Rapla and Märjamaa with bus and train service.
Is transport from Tallinn to the convention provided?
We will announce possibilities for group transport at a later date.
How old do I need to be to attend this con?
You need to have reached 18 years of age by the first day of the convention.
What if I am underage... can I still attend in some way?
Yes! There will be an "Open Camp" day on the 4th of July for underaged visitors aged 13 or older, starting 11:30 local time and closing at 19:00. Open Camp registration will open on 2nd of May!
Can I see some photos of what the con looks like?
Check out our page with photos from last year!
How much will the ticket cost?
The base price for a ticket is 65 euros. Opting for a bed spot on either of the sleeping barges costs an extra 35 euros, alternatively you may choose to bring your tent and camp out. This price is including food during the whole con.
Why is the ticket more expensive than last year?
This year we will see an addition of a dedicated party barge. This means more space to party, more space for events and certainly a better quality of sleep for the large sleeping barge inhabitants. In addition there will be much more food available to ensure nobody gets hungry.
How will I pay for my ticket?
All payments are done at the convention itself. Alternatively you may contact registration@furryest.org to find out about ways to pay beforehand.
Will I be able to choose my bed spot?
Yes! You will be able to choose which bed you wish to sleep in during registration and can refer the bed number to your friends if you wish to sleep close to one another.
How many bed spots are available?
There are 50 bed spots available in the barge house, allocated first come first serve when registering. But even once the bed spots run out, there is always the possibility to bring your own tent and camp out. The space is (almost) unlimited!
Is food included in the price?
The convention ticket includes a breakfast as well as tons of snacks and grilling material for the evenings.
Will I be able to make my own food?
If you clean up after yourself, yes! We have a fully functional kitchen to use. There are also two fridges for public use, however experience shows that they get filled rather fast, so it may be a good idea to bring a cooler. Some ice will be provided by the convention.
Can I be a sponsor?
If you'd like to sponsor FurryEST 2020 to allow us to make it fancier than ever, then there is a sponsor upgrade for 25 euros!
How can I keep up with FurryEST news?
If want to be the first to know the news you should follow FurryEST announcements on Telegram! You can also join the chat through these means.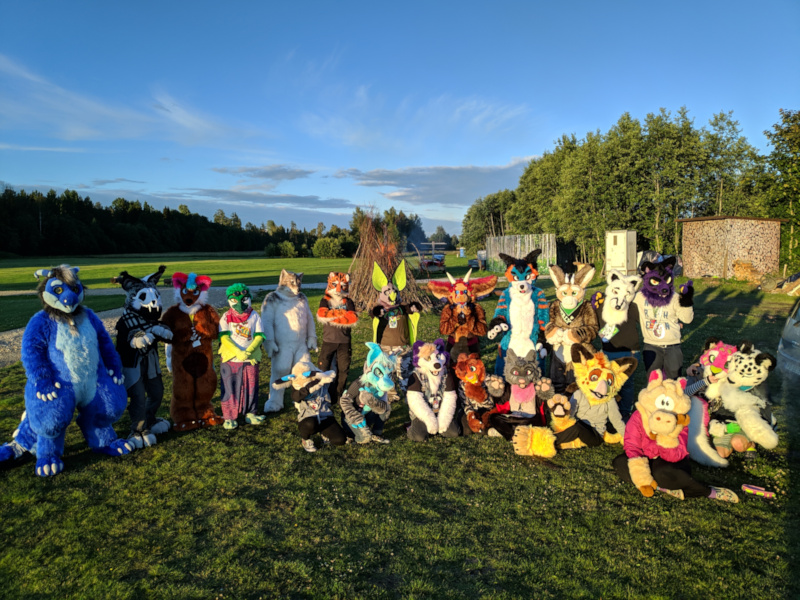 See you there!