Tere tulemast!
Waves and Flames
Are you one to have an affinity for the warmth and light of fire? Or do you fancy the refreshing and cooling lick of water? Get ready to engage your competitive spirit in support of one of these elements, well known to be at odds with one-another... Waves and Flames is the first ever thematic direction for FurryEST! Show your support for one of the elements by taking part in the various events during the convention. Healthy and fun competitions and even some prizes await the creatures most dedicated to proving their element is the best!
FurryEST 2023 will take place on the 13-16th of July!
14th of April, 20.00 EEST (17:00 UTC) is when FurryEST registration opens!
As usual, bed spots (and their location) in the barges are served under the principle of "first come, first served". The number of bed spots in the barges is limited to 50 (30 in the large- and 20 in the small barge house). While the number of "tenting" spots is technically not limited, we may enforce a limit of 100 FurryEST attendees total this year.
FurryEST standard ticket will cost 75€ and if you don't want to camp, a sleeping spot in one of the barges will cost an extra 30€. The sponsorship upgrade costs 25€, but if you are feeling generous then any amount above that would be greatly appreciated, and lets us make the convention even better!
In case you are unaware, this year FurryEST takes place from 13th July to 16th July, still at the same old barge house complex. This year will see an addition of the "Party Barge", as well as the return of the much anticipated HOT TUB!
To get a better idea of how the convention is going to look like, feel free to take a look at the photo gallery from FurryEST 2022!
Or how about checking out this wonderful video made by one of our attendees: FurryEST 2022 AFTERMOVIE by Katherine.
Frequently Asked Questions
When will the convention be held?
13-16th of July, 2023!
When does registration open?
FurryEST 2023 registration opens on 14th of April, 20.00 EEST (17:00 UTC)!
Is transport from Tallinn to the convention provided?
We will announce possibilities for group transport at a later date.
How old do I need to be to attend this con?
You need to have reached 18 years of age by the first day of the convention.
Can I see some photos of what the con looks like?
Check out our page with photos from 2022!
How much will the ticket cost?
The base price for a ticket is 75€. Opting for a bed spot on either of the sleeping barges will cost an extra 30€, alternatively you may choose to bring your tent and camp out. This price is including dinner and morning sandwitches during the con.
If you'd like to sponsor FurryEST to allow us to make it fancier than ever, then there is a sponsor upgrade starting with 25€!
Will I be able to choose my bed spot?
Yes! You will be able to choose which bed you wish to sleep in during registration and can refer the bed number to your friends if you wish to sleep close to one another.
How many bed spots are available?
There are 50 bed spots available in the barge houses, allocated first come first serve when registering. But even once the bed spots run out, there is always the possibility to bring your own tent and camp out. The space is (almost) unlimited!
How can I keep up with FurryEST news?
If want to be the first to know the news you should follow FurryEST announcements on Telegram! You can also join the chat through these means.

Fursuiter group photo (2022)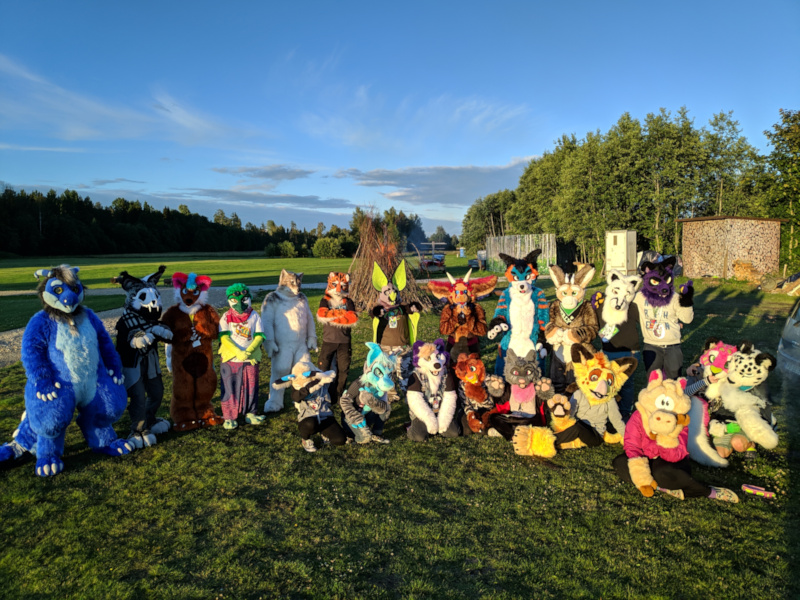 Fursuiter group photo (2019)

See you next year!